{ "id":4524504350823, "title":"2021 DeMarini Mercy USA\/ASA Slowpitch Softball Bat: WTDXMSP-21", "handle":"2021-demarini-mercy-usa-asa-slowpitch-softball-bat-wtdxmsp-21", "description":"\u003cmeta charset=\"utf-8\"\u003e\n\u003cdiv style=\"text-align: left;\"\u003eTake no prisoners. Show no Mercy. Introducing the 2021 DeMarini Mercy Slowpitch Bat. This two-piece composite stick is ready to wreck, thanks to its Advanced Performance Composite Barrel and 4.One Composite Handle that culminate in a stiff, lightweight monster.\u003cbr\u003e\n\u003c\/div\u003e\n\u003cp\u003e\u003cbr\u003eThe 2021 DeMarini Mercy USA\/ASA Slowpitch Softball Bat WTDXMSP features the standard 2 1\/4-inch barrel diameter, and a 13-inch endload barrel.  Keep in mind this bat is only approved for USA (formerly ASA) Slowpitch Softball Leagues and Tournaments.  Enjoy our Fast Free Expedited Shipping every day right here at headbangersports.com. \u003c\/p\u003e\n\u003cp\u003e\u003cstrong\u003eProduct Features: \u003c\/strong\u003e\u003c\/p\u003e\n\u003cmeta charset=\"utf-8\"\u003e\n\u003cul\u003e\n\u003cli\u003e2 1\/4 inch Barrel Diameter\u003c\/li\u003e\n\u003cli\u003e13\" Barrel Length \u003c\/li\u003e\n\u003cli\u003eEndload Swing Weight \u003c\/li\u003e\n\u003cli\u003eHalf + Half: two-piece design\u003c\/li\u003e\n\u003cli\u003eAdvance Performance Composite (APC): Barrel designed for maximum compression and a rapid break-in for a game-ready feel\u003c\/li\u003e\n\u003cli\u003e4.One Composite Handle designed for increased barrel performance. \u003cbr\u003e\n\u003c\/li\u003e\n\u003cli\u003eDesigned and Assembled In The USA\u003c\/li\u003e\n\u003cli\u003eFull Twelve (12) Month Manufacturer's Warranty\u003c\/li\u003e\n\u003cli\u003eApproved for Play in ASA Slowpitch Softball Leagues and Tournaments\u003c\/li\u003e\n\u003c\/ul\u003e", "published_at":"2020-03-16T11:26:51-04:00", "created_at":"2020-03-16T15:37:55-04:00", "vendor":"DeMarini", "type":"Slowpitch Softball Bats", "tags":["Approved For_ASA","Barrel Length_13\"","Barrel Material_Composite","Barrel Size_2 1\/4\"","Bat Material_Composite","Brand_DeMarini","Length to Weight_-8","Length to Weight_-9","Price_$200 to $300","Sale_15MEM","Sanction_ASA Approved","Swing Weighting_Balanced","Type_Slowpitch Softball Bats","Year_2020","Year_2021"], "price":19999, "price_min":19999, "price_max":19999, "available":false, "price_varies":false, "compare_at_price":27995, "compare_at_price_min":27995, "compare_at_price_max":27995, "compare_at_price_varies":false, "variants":[{"id":32075751030887, "title":"34 inch \/ 25 oz", "option1":"34 inch \/ 25 oz", "option2":null, "option3":null, "sku":"WTDXMSP 2534-21", "requires_shipping":true, "taxable":true, "featured_image":{"id":14639073525863, "product_id":4524504350823, "src":"\/\/cdn.shopify.com\/s\/files\/1\/1682\/7299\/products\/DeMarini_2021_Mercy_USA_ASA_Slowpitch_Softball_Bat_WTDXMSP-21.jpg?v=1598463628", "position":1, "variant_ids":null}, "available":false, "options":["34 inch \/ 25 oz"], "price":19999, "weight":1361, "compare_at_price":27995, "inventory_quantity":0, "inventory_management":"shopify", "inventory_policy":"deny", "barcode":"887768913243"},{"id":32075751063655, "title":"34 inch \/ 26 oz", "option1":"34 inch \/ 26 oz", "option2":null, "option3":null, "sku":"WTDXMSP 2634-21", "requires_shipping":true, "taxable":true, "featured_image":{"id":14639073525863, "product_id":4524504350823, "src":"\/\/cdn.shopify.com\/s\/files\/1\/1682\/7299\/products\/DeMarini_2021_Mercy_USA_ASA_Slowpitch_Softball_Bat_WTDXMSP-21.jpg?v=1598463628", "position":1, "variant_ids":null}, "available":false, "options":["34 inch \/ 26 oz"], "price":19999, "weight":1361, "compare_at_price":27995, "inventory_quantity":0, "inventory_management":"shopify", "inventory_policy":"deny", "barcode":"887768913250"}], "images":["\/\/cdn.shopify.com\/s\/files\/1\/1682\/7299\/products\/DeMarini_2021_Mercy_USA_ASA_Slowpitch_Softball_Bat_WTDXMSP-21.jpg?v=1598463628","\/\/cdn.shopify.com\/s\/files\/1\/1682\/7299\/products\/4.one-composite-handle.jpg?v=1598463628","\/\/cdn.shopify.com\/s\/files\/1\/1682\/7299\/products\/APC.jpg?v=1598463628","\/\/cdn.shopify.com\/s\/files\/1\/1682\/7299\/products\/WTDXMSP21_0_DM_Mercy_26_ASA_WH_BloodOR_PU.png.cq5dam.web.1200.1200.jpg?v=1598463628","\/\/cdn.shopify.com\/s\/files\/1\/1682\/7299\/products\/WTDXMSP21_1_DM_Mercy_26_ASA_WH_BloodOR_PU.png.cq5dam.web.1200.1200.jpg?v=1598463628","\/\/cdn.shopify.com\/s\/files\/1\/1682\/7299\/products\/WTDXMSP21_3_DM_Mercy_26_ASA_WH_BloodOR_PU.png.cq5dam.web.1200.1200.jpg?v=1598463628","\/\/cdn.shopify.com\/s\/files\/1\/1682\/7299\/products\/WTDXMSP21_5_DM_Mercy_26_ASA_WH_BloodOR_PU.png.cq5dam.web.1200.1200.jpg?v=1598463628","\/\/cdn.shopify.com\/s\/files\/1\/1682\/7299\/products\/WTDXMSP21_6_DM_Mercy_26_ASA_WH_BloodOR_PU.png.cq5dam.web.1200.1200.jpg?v=1598463628","\/\/cdn.shopify.com\/s\/files\/1\/1682\/7299\/products\/WTDXMSP21_8_DM_Mercy_26_ASA_WH_BloodOR_PU_Double.png.cq5dam.web.1200.1200.jpg?v=1598463628"], "featured_image":"\/\/cdn.shopify.com\/s\/files\/1\/1682\/7299\/products\/DeMarini_2021_Mercy_USA_ASA_Slowpitch_Softball_Bat_WTDXMSP-21.jpg?v=1598463628", "options":["Size"], "content":"\u003cmeta charset=\"utf-8\"\u003e\n\u003cdiv style=\"text-align: left;\"\u003eTake no prisoners. Show no Mercy. Introducing the 2021 DeMarini Mercy Slowpitch Bat. This two-piece composite stick is ready to wreck, thanks to its Advanced Performance Composite Barrel and 4.One Composite Handle that culminate in a stiff, lightweight monster.\u003cbr\u003e\n\u003c\/div\u003e\n\u003cp\u003e\u003cbr\u003eThe 2021 DeMarini Mercy USA\/ASA Slowpitch Softball Bat WTDXMSP features the standard 2 1\/4-inch barrel diameter, and a 13-inch endload barrel.  Keep in mind this bat is only approved for USA (formerly ASA) Slowpitch Softball Leagues and Tournaments.  Enjoy our Fast Free Expedited Shipping every day right here at headbangersports.com. \u003c\/p\u003e\n\u003cp\u003e\u003cstrong\u003eProduct Features: \u003c\/strong\u003e\u003c\/p\u003e\n\u003cmeta charset=\"utf-8\"\u003e\n\u003cul\u003e\n\u003cli\u003e2 1\/4 inch Barrel Diameter\u003c\/li\u003e\n\u003cli\u003e13\" Barrel Length \u003c\/li\u003e\n\u003cli\u003eEndload Swing Weight \u003c\/li\u003e\n\u003cli\u003eHalf + Half: two-piece design\u003c\/li\u003e\n\u003cli\u003eAdvance Performance Composite (APC): Barrel designed for maximum compression and a rapid break-in for a game-ready feel\u003c\/li\u003e\n\u003cli\u003e4.One Composite Handle designed for increased barrel performance. \u003cbr\u003e\n\u003c\/li\u003e\n\u003cli\u003eDesigned and Assembled In The USA\u003c\/li\u003e\n\u003cli\u003eFull Twelve (12) Month Manufacturer's Warranty\u003c\/li\u003e\n\u003cli\u003eApproved for Play in ASA Slowpitch Softball Leagues and Tournaments\u003c\/li\u003e\n\u003c\/ul\u003e"}
2021 DeMarini Mercy USA/ASA Slowpitch Softball Bat: WTDXMSP-21
2021 DeMarini Mercy USA/ASA Slowpitch Softball Bat: WTDXMSP-21
Customer Reviews
Write a Review
Ask a Question
Filter Reviews:
bats
shipping
patient
team bats
club
COVID
questions
rapper
results
seller
02/25/2021
Casey U.

United States
Great Service
Purchase and delivery of the bat was simple and quick. Would definitely purchase from HB sports again. The bat swings great, excited to try it out in some games this summer.
02/09/2021
Miriam H.

United States
I bought it for my son for his birthday
He hasn't used it yet. But he was delighted with it. The shipping was very fast. Excellent seller
12/28/2020
Lennardo B.

United States
Early
Only had a couple of swings but feels real good coming off right now
12/26/2020
Kevin H.

United States
so far so good a lot of Pop right out of the rapper highly recommend it
09/09/2020
Laurie H.

United States
Great help with what type of bat I needed!
I play senior softball and have always used the club's bats. But due to Covid the team bats were not going to be available. I called HB several times with lots of questions and they were always very helpful and patient. I love my new Demarini Mercy. I highly recommend HB Sports.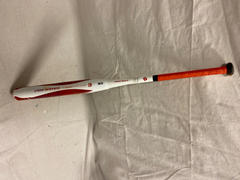 HB Sports shipping department will ensure all packages are shipped with extreme care.
Your Purchase From HB Is A Seamless Experience
From Order to Packaging, all the way to the Follow Up.  We expect your experience to be above your standards of customer service.  If you have any questions at all, or require any type of help please contact us!
Upon Purchase you will receive a confirmation email to the registered email address on your account.  Once your bat has been processed and approved, you will receive a tracking number which is also delivered to the registered address.  Please ensure the email address provided is correct to make the best of our tools provided. 
SHIPPING:
We ship all products out using both USPS & UPS based upon shipping times and delivery dates.  

We Guarantee Same Day Shipping MONDAY - FRIDAY before 3pm Eastern.  
All items ordered SATURDAY - SUNDAY are shipped the following MONDAY
For any reason your bat does not ship on a normal business day, we will follow up via email in which your account is registered.  
UNITED STATES SHIPPING SERVICES: 
USPS Priority Mail (3-7 Business Days):  Included Free 
UPS Ground (3-7 Business Days): $5
UPS 2nd Day Air (2 Business Days): $10 
UPS Overnight Shipping (1 Business Day): Location Based Pricing
INTERNATIONAL SHIPPING SERVICES: 
We only ship outside of the United States to Military Installations. 
If you would like to get a price outside of the United States please give us a call at 888-540-2287.
RETURNS:
HB Sports will accept all returns within 30 Days of the Ship Date.  All Items being returned must be in the original condition, unused, in the original wrapper, and with the original receipt to ensure FULL CREDIT is received.  We WILL NOT accept any C.O.D. Returns.  We highly encourage you ship your items back with Insurance and Signature Confirmation for your own protection. 
If you have any questions or want to learn more about us, 
please visit our contact us page, or email info@headbangersports.com 24 Hours a Day. 
WARRANTY:

Most Bats sold come with a 1 Year Manufacturer Warranty and a Valid Receipt from HB Sports.  

All Warranty Claims are handled by the Manufacturer and not by HB Sports.  We can direct you to the correct manufacturer website or phone number to help you out at any time!
For additional information on the manufacturer's warranty for a specific product, contact the manufacturer directly.  
The following are some common manufacturers warranty replacement phone numbers:
 
DeMarini: (800) 937-BATS
Louisville Slugger: (800) 282-BATS
Miken: (877) 807-5291
Worth: (800) 423-3714
Marucci: (225) 291-2552
Rawlings: (866)-678-4327
Easton: (888)-259-1297 
If you ever have any issues with a return, or a receipt you may think has been faked please Contact Us directly. 
Have a unopened bat or product that is not broken and just needs to be returned to us?  Give us a call at 888-540-2287 and we'll be happy to help you out!